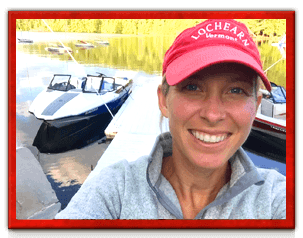 Eliza Scott-Cook
Eliza went "to camp" during her first year of life – she was five weeks old! She then attended camp for all the years of her school and college life. Eliza has a strong New England educational foundation. She graduated from Westminster School in Connecticut, where she competed on the soccer, swimming, and tennis teams. She then attended Bates College in Maine, where she continued competing on the Bates crew, swimming, and tennis teams. She earned a BS in Neuroscience '01 and earned Honors defending her Neuroscience thesis. Eliza worked as a Spinal Cord Injury Research Scientist for two years at the University of California Stem Cell Research Center in Irvine, California. Eliza also earned a Juris Doctorate from the Levin College of Law at The University of Florida in 2004 and is a licensed attorney in CA, DC, FL, & NY. She practiced corporate law for Paul Hastings in NYC for six years.
In 2013, Eliza worked as a Campus Leader at Camp Lochearn and, since then, she has worked behind the scenes at camp managing the finances, consulting, and most recently hiring the 2021 staff. In 2021, she was the Girls Head Counselor. Eliza and her husband Warren ("Bunge") Cook, Jr. have four daughters—Piper, Whitney, Chloe, Talbot—and a dog named Hunter. In her spare time, Eliza enjoys spending time outdoors with family, particularly skiing, hiking, boating, and playing tennis. Eliza is a triathlete as well, having raced in sprint and Olympic distance races in Northern California, New York City, Long Island and Washington, D.C. as part of the Bates College Alumni Triathlon Club. She also competed at the USTA 18+ Women's Doubles National Championships in 2015 at Indian Wells Tennis Center in CA for the State of Hawaii (where she brought along her then three-month-old second daughter (Whitney) who watched courtside with her very supportive husband, Bunge!).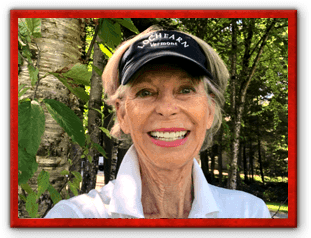 Ann A. Scott
Ron & Ann Scott bought Camp Lochearn (in 2012) and have been actively involved in its management ever since. They truly have camping in their blood; Ann's parents founded Camp Laurel in 1949. Ann arrived at camp for the first time in 1950 when she was four months old and has been a "camp person" ever since that day. Ann met her husband, Ron, at Camp Laurel in 1974 and have been together in life and in camping ever since. (Ron was the head of waterskiing, and Ann was the head of riding). They went on to found Camp Laurel South in the early 1990s. Ron has been a member of the American Camp Association since 1974, serving in many leadership roles, including as the Chair of Ethics for the NY section, a member of the NY Board of Directors, and as a standards visitor for accreditation of other camps. They have three grown children, all of whom are married with their own families. Eliza, their youngest daughter (see bio), has been involved with camping throughout her life. Eliza Scott-Cook now joins the ranks as Co-Director of Lochearn with Ann, representing their third generation in camping.
While they are no longer involved with Camp Laurel or Laurel South, Ron and Ann purchased Camp Lochearn in 2012. Lochearn's 2021 season marked Ron and Ann's 48th summer in New England children's camping. They are both passionate about the tremendous positive impact a summer camp experience can have on a child's life. In addition to their positivity about summer camping in general, they recognize the enormous impact an all-girls camp can have in developing strong women.
Ann earned her undergraduate BS degree in Health and Physical Education, and a Masters of Science degree in Elementary Education. While in college, Ann was a member of the intercollegiate riding and golf teams. After completing university, Ann was the first Girls' Athletic Director at the Hotchkiss School in Lakeville, CT. Besides organizing and scheduling all the girls' team sports, she also coached field hockey, volleyball, basketball, and lacrosse. Dorm life at Hotchkiss is an important part of students' well-being. She was responsible for a floor of 26 high school girls. Camp life certainly helped her prepare for that aspect of the job! After two years at Hotchkiss, Ann and Ron became owners/directors of Camp Laurel and later founded Camp Laurel South.
In later years, Ann competed successfully in the senior Olympics in the 100 and 200 meter sprints. She was first in the state of Florida for 2 years, qualified for Nationals at Stanford University, and got 8th in the country.
Ann was brought up to carry on the tradition of helping children be the best they can be by gaining confidence, having a sense of belonging, giving back, improving skills and learning new ones, reaching out of their comfort zone, making friends, and by all means having fun along the way! Lochearn's 106-year history has proved its enduring value, and the Scotts remain committed to continuing that mission for many years to come.