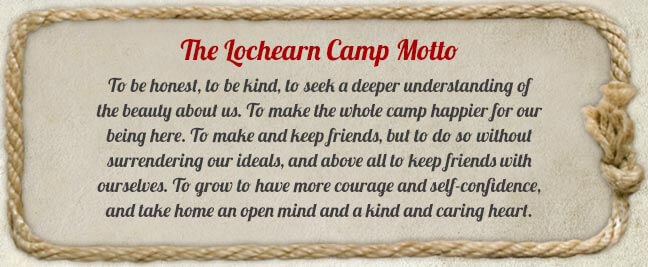 Choosing a Summer Camp
Selecting a summer camp for your daughter can be a difficult and trying decision. After all, you are entrusting your daughter to the care of others. Your association with Lochearn is a process that begins right now with your initial inquiry and exploration of what Lochearn can mean to you and your daughter. Parents who have made an investment in Lochearn appreciate how we enhance children's individual confidence and skill development through wholesome fun, friendships, laughter, and learning. Helping children grow to be honest, kind, fair, responsible, and respectful of social rules and authority are values and behaviors that we and our Lochearn families hold as similar goals and visions.
Keeping the Lochearn
Spirit Alive
Thousands of girls have built on a powerful spirit that's been part of our summer community for almost 100 years. It's impossible not to get swept away by it when our entire camp family is singing by the campfire, sharing the excitement of blue and green team events or raising our voices in song during dinner. The Lochearn spirit lives in your heart during the summer, but it stays with you all year long. Through school and beyond, you will always remember and be grateful for having captured the Lochearn spirit!