By: Quinn White
Photographer, Summer 2019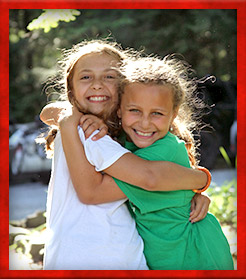 Anyone who has gone to summer camp understands that the friendships made in your own camp bubble are some of the most powerful connections you will make throughout your life. Each summer at Lochearn, campers and staff travel from every corner of the world. We each have an incredible opportunity to meet people we may not have met otherwise. Connections like these are unmatched, and allow girls to be exposed to new people, cultures, and experiences. Although many girls start the summer as strangers, by the end, they walk away as best friends.
As the camp photographer, it was my job to pay attention to the details. As the summer days passed by, I noticed many girls becoming close friends with one another. Seeing the magic of camp friendships unfold through the lens of my camera is an experience I will never forget.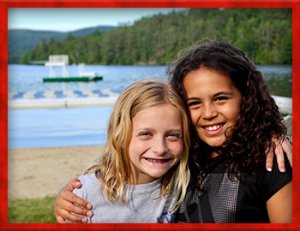 Being a camp photographer has been one of the most gratifying experiences of my life. My days were filled with laughter, sunshine and making memories with campers and staff. I learned how to make friendship bracelets alongside campers, spent hours on the ski boats and enjoyed the s'mores bars more than anything this summer [Click here for the s'mores bars recipe!] I had so much fun at camp, but the best part of my entire experience was getting to see friendships grow between campers.
"My friendships at Lochearn have impacted my life by letting me know that I have friends wherever I go. I now have a friend in Japan, Massachusetts, New York, in California and in many other places. I feel connected to my friends even though we're miles apart, and if I'm facing trouble it helps me to know they're out there." – Greta, Park City, UT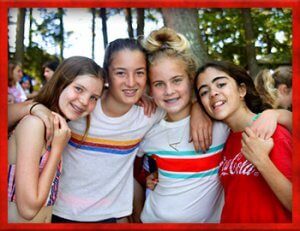 I took thousands of photos this summer, and the most memorable ones were of campers who have become best friends through Lochearn. There are many campers who met during their first year on Junior line who still continue to be friends as they become Seniors and beyond. I was told by many girls that they spend the school year counting down the days until they can return to Lochearn and daydreaming about all the fun they will have the following summer.
"My friendships at Lochearn have made such an impact on my life in so many ways. I have made lifelong friends that I will love forever and are always there for me. The friendships I have made at this camp impact my life every day from missing them so much to going to visit them during the year to just wishing they were there with you all the time.
From FaceTiming each other for hours a night to seeing each other on Opening Day, you truly know they are there for you and will never leave your side even if they do live on the other side of the country. The friends I have made at Lochearn have made me who I am today, and I will always love them for that." – Kate, Norwich, VT
Friendships made at camp are camp-wide, both among campers and among staff and everywhere in between. Spending a summer at Lochearn was an extraordinary experience for me. I made memories this summer that I will never forget, and friendships that I will cherish forever. The people I met at Lochearn have helped me open doors to opportunities that I may have never had otherwise. I made friends from around the world, and I learned a lot about myself in the process.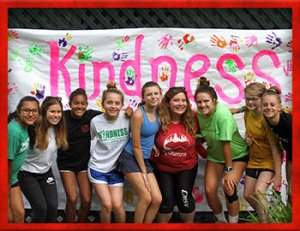 Camp is a wonderful experience for everyone who is a part of a camp community. Many counselors come to camp simply to help create everlasting bonds between campers. Helping a camper to make new friends is the most important part of a counselor's job. Meeting someone new and learning more about their likes, dislikes, values and culture, while also getting to share their own, is the best way to expand one's understanding of the world around them. Campers view staff as role models and they often form strong bonds together. Not only do campers look up to staff, but staff greatly appreciate campers as well. The campers I met at Lochearn made my whole experience worth the while.
"As a camp counselor I've met lots of kids, staff and parents and every single one has changed my life. I've worked with kids who had no interest in the outdoors when they started and then by the end of the summer, hiking is their new favorite activity. I've made friends from all over the world and the United States. I even met my best friend who now lives in Australia! The last 3 summers as a camp counselor has given me leadership skills and things I could have never even dreamed of! I would highly recommend working at a summer camp for anyone wanting to broaden their horizons in friends and skills." – Bekah, Gainesville, FL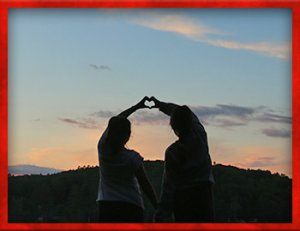 Regardless of your role at camp or the reason you decided to go to summer camp, you are sure to form connections like no other. Campers and staff alike make friendships to last a lifetime. My summer at Lochearn was one of the best summers of my life. The experiences I had and the friendships I made will connect me to Lochearn for the rest of my life, something for which I am truly grateful.
When we think of Campfire Hill at Lochearn, we think of the serene, reflective space that allows us to look back on our experiences at camp and treasure the memories we make every day. Surrounded by hemlocks and white pines swaying in the wind amongst the breathtaking Vermont scenery, Campfire Hill is often referred to as a "natural wonder." Past and present campers and staff are connected by the thousands of footsteps that have traveled the path to Campfire Hill, making it one of the most special places at camp.
The evening tradition of S-Day Campfires on Campfire Hill is made up of so many smaller customs unique to Lochearn. On S-Days, we put on our white Lochearn polo, our navy blue shorts and our sash bearing the Royal Stewart Tartan to get ready for dinner. Each of these pieces make up our Blues and Whites, another signifying connection between campers past and present. It is a beautiful sound to hear Robert Burns' Selkirk Grace sung before dinner on S-Day nights, a sound that Lake Fairlee has heard from Highland Hall each summer for over one hundred years.
After dinner, we all gather on the Point at the bottom of Campfire Hill, patiently waiting to walk alongside our friends and cabinmates up to encircle the stone firepit etched with the Lochearn Thistle. There is a sense of anticipation in the air as we wonder what we will learn about ourselves or about our peers as we gather on top of Campfire Hill this time. As we quietly walk up to Campfire Hill, the mood sets in and we get ready to hear that evening's S-Day Campfire theme.
Each S-Day Campfire has a different theme. Sometimes it is a line from the Lochearn motto. The theme can also be a philosophy taken from life at camp or at home, such as kindness, empowerment or self-confidence. Each theme is meant to ground us as we express our feelings or tell a story. Campers and staff members sing songs, share poetry or tell personal stories to relate to their peers. While sitting around the campfire, girls can have a moment of self-reflection and peace. Campfire Hill can evoke many different emotions, from joy and love to contemplation and gratitude. The time spent together and the conversations that happen on Campfire Hill inspire growth individually and as a community. Lochearn is a place where girls blossom into strong young women, and Campfire Hill is where this transition is often made.
For many campers, coming to Lochearn is their first time away from home. Camp life moves fast, and girls spend their time at Lochearn trying new things, meeting new people and learning new things about themselves. The energy of camp slows down on S-Day nights. Although Campfire Hill offers a more reflective side of camp, it is a part of the experience that makes the summer even more special. Campers can have a quiet moment to be thankful for the opportunity to be at camp and to soak in all of the positivity around them. We love experiencing some of the most beautiful sunsets as we look out over Lake Fairlee, and the rare moment of a hot air balloon flying overhead as we sing "Magic" together always gives us goosebumps. Nothing is more special than spending time with friends, new and old, in the light of the campfire's glow. Many campers and staff leave Campfire Hill feeling refreshed and inspired for the next week of camp.
Young women at Lochearn have been making the journey up Campfire Hill, portraying respect for the sacred space by walking around and not over the hill. Campers have walked over the same roots and sat on the same benches, unifying Lochearn Lassies for many years. If the trees of Campfire Hill could tell a story, it would be the story of how the Lochearn motto comes to life each summer in the words and songs of Lochearn Lassies since 1916.