It's been an amazing year of staff hiring. We are so excited to welcome many new staff members to the Lochearn family, and to have so many returners from 2015.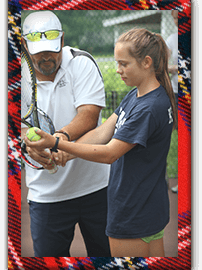 Coach Aldo Santiago will be gracing the tennis courts with his stellar warm-up and practice routines once again! Aldo's love and passion for the game of tennis is contagious. The courts will be filled with laughter and excitement.
Many campers will recognize another familiar face at Lochearn this summer. Adrienne Jensen-Doray is thrilled to be getting back in the saddle as the head of the riding program. For the past two years, Adrienne has enjoyed working as the Assistant Director of Student Activities at Union College in Schenectady, NY, overseeing student clubs and leadership development activities. This will be Adrienne's sixth summer running the Lochearn Riding program.
We are very happy to announce Sarah Beulink and Ashley Davis as the CT Campus Leaders this 
summer! Franny David, Maggie Brummer and Hannah Dailey will be returning as Senior, Sub-Senior and Junior Campus Leaders. Ruth Potter will be returning to lead the climbing program, and Chloe McDonnell will be back as the head of the athletics program! Morgan Riley will continue to be our fearless leader of OAP. Lori Earle will be back as the Parent Liaison and helping with the swimming program, and Beth Field will be the glue that holds together the arts program!
Logan Trask: Head of Theatre
Birthplace: Nashua, New Hampshire
School: Case Western Reserve University
Activities taught in 2015: Singing, Theatre, and Summer Reading
Fun Fact about yourself: I live in Danvers, MA, the original Salem Village, where the witch trials
 happened.
Not-So-Secret Passions: Songwriting!
Favorite Camp Food: Any dish where hash browns or tater tots are involved.
Favorite Camp Song: "Home." Nothing is more beautiful than singing it on campfire hill during the pine cone ceremony.
Favorite Camp Activity: Performing Arts Night!
Favorite Memory of Lochearn: Singing the song I wrote for camp and having the whole camp sing along with me. I felt so connected and loved.
Logan's advice to new members of the Lochearn family: It's okay to be nervous and even a little scared, but trust me, you got this! Make sure to try new things and don't be afraid of failing or looking silly (in fact, I would encourage you to be silly on purpose). Camp is a place for being yourself and for learning that there is more to yourself than you ever thought possible.