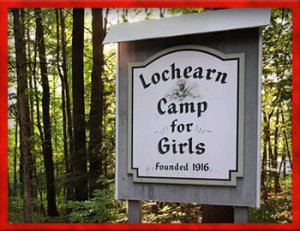 Poem by Joyce Larson
A Lochearn Lassie I have been since nineteen sixty one
The influence it's had has shaped the woman I've become
The smell of pine is all it takes, and I'm transported there
Back to Vermont, and memories of summers free from care
There really are no words to say what Lochearn's meant to me
Eleven summers spent on "Rocky Shores of Lake Fairlee"
The motto – it still resonates – each phrase a work of art
Be honest, kind, and keep an open mind and caring heart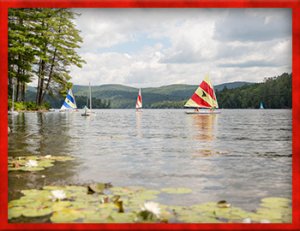 And when I see a fire lit – "Kneel Always" comes to mind
Each week atop Campfire Hill, where we would always find
A time to share with friends – "look up, and laugh and love and lift!"
In our own "Green Cathedral" – Sunday nights were such a gift
Camp days brought new activities, with crafts and sports galore
I learned to do so many things I'd never done before
With counselors to guide me – so I'd learn to do things right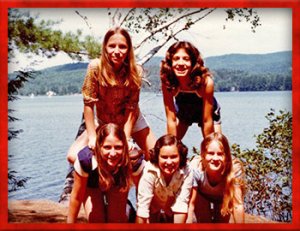 And help if I got homesick, saying "Sweet dreams" every night
And – OH! – The Blue/Green rivalries! I'm Green – yes through and through
And though I am no athlete – There is one thing I can do
If you would like to know the words to every Lochearn song
Just call me up – I'll fill you in – it won't take very long!!
Yes, it's been true each summer for a century – and more
That Lochearn Lassies gathered on Lake Fairlee's grassy shore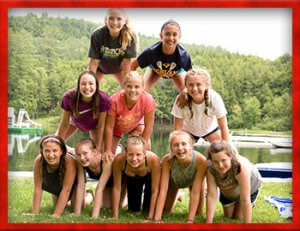 Until this COVID 19 came and blew across the world
And blocked the road to Lochearn Camp, and broke the hearts of girls!
There's NO ONE wants to miss one day of Lochearn's summertime
A time with friends, to get away – it really is sublime!
To think a little germ so small could close our Lochearn's gate
Well – this can't last!! Camp WILL be back next year – Why you just wait….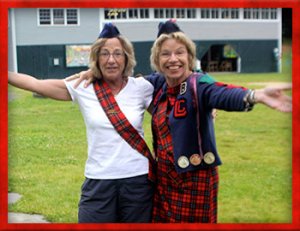 And THEN – Oh yes – the singing will be heard 'cross Lake Fairlee
Out to the hills and through the pines from campers filled with glee
That life on earth has normalized and camp – Won't it be grand?!
Will open up – and Lassies can form circles joining hands
And as the "Council Fires burn" and "sun sets in the west"
These "hours spent at Lochearn – yes – the times we love the best"
Can once more ring with sounds of singing "Peace" and "Taps" each night
And life as we all know it will go back to being right!!!!
Lovingly written by Joyce Larson (Pictured on left in last photo, with sister Linda Larson)